Message from the President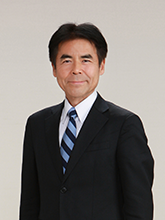 Maruo Calcium Co., Ltd. is a comprehensive manufacturer of calcium carbonate and was established in October 1926 in Akashi, Hyogo Prefecture, the scenic place which appeared in Manyoshu (Japan's oldest anthology) and the tale of Genji (Japanese classic literature).
 We began our business with the production of chalk, calcium carbonate for the paint industry. Our business has expanded along with the development of the Japanese economy, in particular, the chemical industry, and we have continuously produced new products.
 Calcium carbonate is currently used to maximize the functionality of many important products in our life, such as rubber, paper manufacturing, plastic, adhesive, sealant, ink, food, and material for electronic parts and automobile parts.
  We put importance on research and development in our business. It is essential to value both applied research by focusing on the quality and responding to customers' needs, and basic research by searching for new potential of calcium carbonate. Nothing other than invention and discovery excites people.
 We have also been utilizing rapid-progressing IT to improve our industrial technology. Needless to say, we have been establishing a steady supply system and high quality products. We also aim to establish an environment and people friendly production system.
 Not only Japanese customers but also a wide range of customers, such as those from China, Korea, Southeast Asia, North America, South America and EU countries, use and are satisfied with our products. In particular, in China, we established hubs in Shanghai and Guangdong province and founded our production and sales system there.
 Calcium carbonate was generated in the primeval seabed and is distributed as a form of chalk all over the world. It is not too much to say that it has been developing alongside the development of human society since the dawn of history.
 We believe that our mission is to continue to provide prosperity and comfort to people and society by maximizing the function of a raw material with great potential — calcium carbonate.
Haruo Maruo
President