Sealants / Adhesives / Plastisols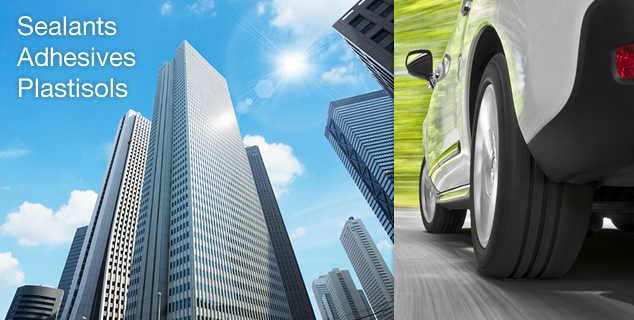 Sealants, adhesives and plastisols are shaped in paste form, but required diverse designed viscosity such as putty-like-paste, high fluidity form, etc. according to their application. Colloidal calcium carbonate and light calcium carbonate are mainly used for products designed to be shaped in putty and paste form, and ground calcium carbonate is mainly used for products designed to be liquid form or used for viscosity adjustment of paste form. Recently, the usage of these products get increasing as materials to enhance strength and elongation percentage and improve functionality such as adhesive performance, storage stability, etc.
Applications
To increase the workability and storage stability of sealants and adhesives for construction, and for improved reinforcement and elasticity functionality. To increase the adhesive and anti-slippage performance of plastisol for automotive.
Product lineup
Colloidal calcium carbonate and light calcium carbonate
MSK-PO
KALFAIN200
KALFAIN200M
KALFAIN200S
KALFAIN500
KALFAIN20S
KALFAIN N-2
KALFAIN N-350
KALFAIN N-40
CARLEX 35
CARLEX100
CARLEX300
MS-100M
MS-700
MS-900
MS-2000
CALFORSEAL 15B
SEALETS 200
N-2
WHISCAL
Light Precipitated Calcium Carbonate
Ground calcium carbonate
R Ground Calcium Carbonate
Ground Calcium Carbonate N-35
Ground Calcium Carbonate
SUPER S
SPECIAL RICE S
SUPER SS
SUPER SSS
SUPER 4S
SUPER#1500
SUPER#1700
SUPER#2000
SUPER#2300
NANOX#25
NANOX#30
SNOWLITE S〜#1500
MC COAT S-10〜23
MC COAT P-10〜23