Plastics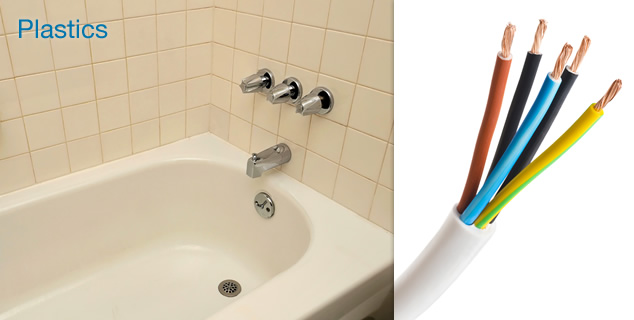 Calcium carbonate has functions to adjust the hardness of plastics and increase their impact resistance, flex resistance, and dimensional stability.
We can also provide products conforming to the positive list (Japan Hygienic Olefin and Styrene Plastics Association) according to the application.
Applications
Additives for synthetic resin products such as wire coating materials and wallpapers
Secondary materials for giving design properties and dimensional stability to plastic products such as bathtubs, washstands, sashes, etc.
Product lineup
Colloidal calcium carbonate and light calcium carbonate
MSK-P
MSK-PO
KALFAIN200
KALFAIN200M
KALFAIN500
KALFAIN20S
KALFAIN N-350
KALFAIN N-40
CARLEX100
CARLEX300
N-2
MC-K
CUBE-18BHS
CUBE-50KAS
CUBE-80KAS
WHISCAL
Light Precipitated Calcium Carbonate
HAP-05NP
(Calcium phosphate)
HAP-08NP
(Calcium phosphate)
Ground calcium carbonate
Ground Calcium Carbonate N-35
Ground Calcium Carbonate
SUPER S
SPECIAL RICE S
SUPER SS
SUPER SSS
SUPER 4S
SUPER#1500
SUPER#1700
SUPER#2000
SUPER#2300
NANOX#25
NANOX#30
CALTEX5〜7
MC COAT S-10〜23
MC COAT P-10〜23
SNOWLITE S〜#1500
NANO COAT S-25〜30
M-WHITE
M-300J